Decatur Divorce Lawyer & Divorce Attorneys
Decatur Divorce Lawyer
If you and your spouse completely agree about all marital issues, you can get a quick and easy divorce in Decatur, Alabama. Our Decatur divorce lawyers are charging a low flat fee to handle uncontested divorces. However, if your spouse is not in agreement, we can handle your contested divorce as well, but it is much more expensive. If you live in Morgan County, then give our local Decatur divorce attorney a call today.
The uncontested divorce in Decatur may require additional fees if there are substantial property or tax considerations involved, paternity matters to be resolved, retirement issues, or any other complex problems that would require more time from the divorce attorney. There is also a filing fee that Morgan County charges when a divorce is filed. This filing fee varies from county to county. Give our Decatur divorce lawyer a call today for more information about the filing fee in Morgan County, Alabama.
For this flat fee, our Decatur divorce lawyer will handle your uncontested divorce in Morgan County, Limestone County, Athens, Lacey's Spring, Hartselle, and the surrounding areas of Northern Alabama.
If you are not in agreement then you will need to file a contested divorce in Decatur, Alabama. Contested divorces require something called a retainer, which is an amount you pay the attorney who bills hourly out of it. Our retainers can be thousands of dollars depending on your circumstances. If you need a Decatur divorce lawyer to fight for you, then give us a call today for a quote.

Divorce Lawyer in Decatur
We can help whether your divorce is contested or uncontested. If contested, then you can call and get a quote on the retainer required for your case. The process for a contested divorce is much longer and more expensive than an online Decatur divorce.
To do an easy uncontested divorce in Decatur, you and your spouse must agree to all of your marital issues such as custody, child support, visitation, property division, and all other issues. Once you have agreed to everything, you can pay our Decatur divorce lawyers a low flat fee to do the uncontested divorce for you.
An uncontested divorce consists of our attorney preparing paperwork for you and your spouse to sign and return to us to file with the local court. Because the two of you have already reached (and signed) an agreement when the case is filed it is labeled an uncontested divorce in the system.
If all of the proper paperwork has been signed and filed appropriately then the judge in your case just has to approve your agreement and sign your divorce decree. There is no going to court in most cases and you will usually receive your divorce decree by both mail and email in a month or two. This is the best way to obtain a quick and cheap divorce in Decatur or the surrounding areas of Morgan County, Alabama.
If you want to get the process started for an easy divorce in Morgan County, then you can fill out our Divorce Questionnaire online today by clicking on the sidebar of this page to the right. Once we receive the questionnaire and payment then our divorce lawyers in Decatur will prepare your documents. A Morgan County uncontested divorce is mostly paperwork, so at this point, it is up to you to get your spouse to sign it so it can be filed by our office.
An uncontested divorce in Decatur is the cheapest and simplest way to get a divorce, but if you and your spouse are not in complete agreement then we can file your contested divorce for you as well.  If you have any questions about this then feel free to call our Decatur divorce lawyers today.

If you are looking for a divorce lawyer in Hartselle, Decatur, Florence, Athens, Priceville, Eva, Brooksville, Lacey's Spring, or Moulton Heights then your divorce will most likely be filed in the Circuit Court of Morgan County, Lauderdale County, or Limestone County, Alabama. Our Decatur divorce lawyers are aware of the local requirements in Morgan County, Limestone County, and all of the counties across the State of Alabama.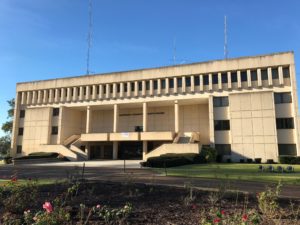 So if you retain us to do your uncontested divorce our attorney will prepare all of the documents necessary to get your quick and easy divorce in whatever county you file in.
An uncontested divorce is mostly paperwork and is a quick and easy way to get a divorce in Decatur, Alabama. As long as the judge approves your agreement then there should be no need for any hearings or court dates in an uncontested divorce. However, if you need a divorce attorney to fight for you in court, we do that too.
The City of Decatur is the seat of Morgan County, and the Morgan County Circuit Clerk's office is located downtown.   In an uncontested divorce, you don't necessarily have to come into the office and meet with the Decatur divorce attorney in person. Since it is mostly paperwork and you and your spouse have already done the hard work of reaching an agreement, a phone discussion or two can usually answer all of your questions before and during the process. If you have questions about an uncontested divorce in Morgan County then give our Decatur divorce lawyers a call for a consultation.

Harris Firm LLC Proud Member of
Quick Contact
Choose from the office locations above for contact details